The Mission of the AAUW is to advance gender equity for women and girls through research, education and advocacy. Since its founding in Boston in 1881, AAUW has been a catalyst for change. Our nonpartisan, nonprofit organization has more than 170,000 members and supporters across the United States, as well as 1,000 local branches and over 800 college and university partners. Throughout our history, AAUW members have examined and taken positions on the fundamental issues of the day — educational, social, economic, and political.
Local branches throughout Arizona work in concert with the State AAUW to empower and educate women through our scholarships, workshops and forums. The Flagstaff Branch partners with our local educational institutions – Coconino Community College and Northern Arizona University – to promote opportunities for women and girls throughout northern Arizona. Come explore and join our efforts!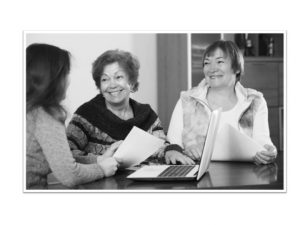 Friendship, Service, Activism
"Empowering Women since 1881″
Flagstaff AAUW presents our Fall Public Policy Luncheon to raise money for our Scholarship Fund.
When: Saturday, October 12
Where: Doubletree Inn by Hilton, Flagstaff
What: Luncheon and Keynote address: 11:30-1:30 followed by workshop at 2pm.
Tickets for Luncheon and Workshop: $75
Purchase on-line at Eventbrite.com Filter using: Event=AAUW In=Flagstaff
Keynote: From Status Quo to Hell No!
Mitra Shahri from Mitra Law Group Employment Lawyers will discuss common forms of sexual harassment, demonstrate that no one is immune from such abuse and highlight how workplace sexual harassment and discrimination is a company culture problem. Harassment produces physical and mental health problems, career interruptions, and lower earnings, contributing to the gender wage gap and high costs of these harms to everyone involved.
Workshop: Real-life scenarios will be role-played, from the misuse of social media and text messages to handling inappropriate comments or unwanted sexual advances from coworkers or managers. Additionally, we'll discuss unconscious bias, workplace diversity, inclusion, respect, and fairness.
Mitra Shahri, a native of Iran; moved to US at 18. Earned her JD at the University of Utah in 1993. Began her career in Medical Malpractice in LA. After suffering sexual harassment and job discrimination she opened Employment Law firm for claims against Hollywood celebs, moguls and studios. Moved to Portland in 2002 and fights against sexual harassment, job discrimination and corporate corruption. Member of National Speakers Assoc. and voted "funniest lawyer" in Oregon! She gives many programs each year and is considered an outstanding and dynamic speaker!
This is our main fundraiser each year for the Agnes Allen Scholarship Fund, begun in recognition of Ms. Allen who founded the Flagstaff Branch of AAUW. We grant scholarship money to deserving and motivated women attending community college, enabling them to complete their Associates Degrees and move on to 4-year colleges or universities. This year we were able to grant enough to significantly help one student at Coconino Community College who will be graduating next May. We hope to generate enough funds from this Luncheon Program to support 2 more students next year. If you can't attend the Luncheon this year, please consider making a tax-deductible donation in any amount to help us out. Checks can be made out to AAUW Flagstaff, and mailed to us at P.O. Box 31024, Flagstaff, AZ 86003.